AARDEE Electrical Services can provide a free quotation to replace existing rewireable fuseboards with Consumer Units containing Minature Circuit Breakers (MCBs) & Residual Current Devices (RCDs).
These consumer units have built-in 30mA protection for the use of electrical equipment outdoors & easily re-set circuit breakers giving safe & accurate protection of circuits.
We also upgrade main & supplementary equipotential bonding to BS7671 standards.
Miniature Circuit Breakers
MCBs are mechanical switches that incorporate thermal & magnetic short circuit protection giving accurate & fast disconnection in the case of a fault.
Unlike fuse wires they can be reset without the need of tools.
Residual Current Devices
RCDs are earth fault safety trips that monitor the whole installation or individual circuit for earth leakage currents.
In a healthy circuit, phase & neutral currents are balanced. If an earth fault occurs (eg: faulty kettle element) the fault current imbalances the phase & neutral current, which is then detected by the RCD & it quickly isolates the fault.
RCDs protect against fire as fault currents remain low, they are also essential for use with outdoor equipment.
We can advise which type & sensitivity of RCD you require.
Bonding Main/Supplementary
Main & supplementary equipotential bonding is required to limit any voltage between simultaneously accessible exposed conductive & extraneous conductive parts.
An exposed conductive part
Metal case of electric heater, kettle, toaster, etc.
An extraneous conductive part
Taps, shower fittings & metal pipes for gas & water.
Supplementary Equipotential Bonding is required in bath & shower rooms where the risk of an electric shock is high due to moisture & low body resistance.
Bonding comprises of conductors being attached with suitable clamps to water & gas service pipes where they enter the building & to ensure all metallic equipment in rooms of high shock risk (eg bathrooms) is at the same potential.
BS7671/IEE Wiring Regulations are set out to ensure safe & reliable electrical installations.
Fuseboard upgrades are required for various reasons:
Existing earthling devices are obsolete or faulty (eg old fault voltage Earth Leakage Circuit Breakers)
Exisiting Fuse Board is overloaded & requires more outgoing ways for a house extension, etc.
New fuse boxes offer easier resetting of devices in case of a fault. Fuse wire is no longer needed & new devices cannot be fitted with the wrong size of fuse wire.
The installation of RCDs for protection of equipment used outdoors (eg mowers, etc)
The correct size of protective device is essential to disconnect any circuit in case of a fault that could cause a fire or electric shock. Different size cables can carry different size loads, if a cable is overloaded it will get hot.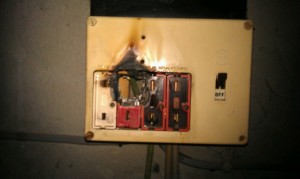 Rewireable fuseboxes are frequently overloaded and should be replaced – for your safety
---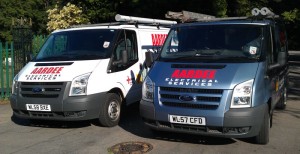 If you have an old fusebox in need of upgrade, appointing a good qualified Electrician in Cardiff costs less than you think!
Contact us today for a free quote!
Contact Aardee Electrical Services Today!
Contact Aardee Electrical Services today for a free, no-obligation quote! Just leave your name and either email address or phone number and we'll get back to you as soon as possible to discuss your requirements or query.
Alternatively, please telephone Aardee Electrical Services on 02920 810 315 or 07702 162 692.
Got an emergency and need us quickly? Aardee Electrical Services offers a 24/7 callout service all year round for electrical emergencies. Just call us on 02920 810 315 or 07702 162 692 day or night for a fast emergency response!