Is an unreliable system proving to be a headache?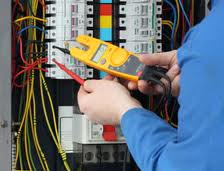 In this day and age electricity is a staple of the Western world. Everything runs off electricity and it's easy to see that point during a power cut. Pretty much every vital component in a house is often powered by electricity and without electricity, it's hard to get by.
Occasionally electrical systems develop faults which causes localised failures. Normally, fuses keep blowing or the Miniature Circuit Breakers (MCBs) and Residual-Current Devices (RCDs) keep tripping. This is a sign that something is wrong and you have a fault in your system somewhere.
Expert Electrical Fault Finding
At Aardee Electrical Services, our fully qualified electricians are trained in fault finding. Our friendly staff are able to track down and isolate faults from the very basic to the very complex.
We can trace faults to the source and help find a solution to stop them from taking down your entire electrical supply.
At Aardee Electrical Services, we have an experienced network of electricians and a comprehensive range of expert testing equipment. If you've got an electrical fault, we can find it and rectify the problem, fast!
It all starts with a phone call. Just give Aardee Electrical Services a ring today for a friendly chat with a qualified electrician about your problems.
Contact Aardee Electrical Services Today!
Contact Aardee Electrical Services today for a free, no-obligation quote! Just leave your name and either email address or phone number and we'll get back to you as soon as possible to discuss your requirements or query.
Alternatively, please telephone Aardee Electrical Services on 02920 810 315 or 07702 162 692.
Got an emergency and need us quickly? Aardee Electrical Services offers a 24/7 callout service all year round for electrical emergencies. Just call us on 02920 810 315 or 07702 162 692 day or night for a fast emergency response!