Update your home to the 21st century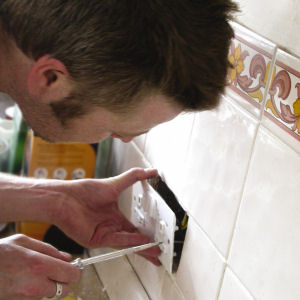 Many older properties, unless it's been rewired in the past and some newer homes, are typically short of plug sockets. Older homes often have a couple of single plug sockets dotted around but not enough to run today's modern power hungry devices such as televisions, Sky boxes, radios, DVD players, Blu Ray players, surround sound speakers, iPods, mobile phone chargers, etc.
Extension bars are a short term solution but can be dangerous if overloaded. They can potentially prove to be a fire hazard.
Even new homes are susceptible to problems. Plug socket and lighting locations are often poorly considered during the construction phase so as a home owner you may find you don't have enough plug sockets or you have dark areas even with the lights on. It's perhaps not something you would consider when buying a new build until you move in and start living with the electrical system. It's only then you can appreciate whether there are enough sockets and if the lights are correctly positioned.
I need more juice!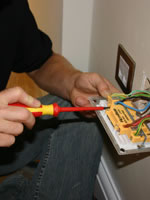 If you need extra lights, switches or sockets or would like to change, add or modify to your existing electrical system installation, then Aardee Electrical Services can help.
Whether you are looking to add more sockets to your living room, kitchen or bedrooms, or whether you are looking to add more light fittings or replace existing light fittings but are unsure what to do to ensure a safe supply, simply let Aardee Electrical Services take care of it all for you.
Our professionally trained and fully qualified electricians are experts at tailoring the electrical system in your home or workplace to suit your requirements. All work is certified by the NICEIC governing body and Part P registered.
Home Survey
Aardee electrical services can discuss your requirements and options with you. Our friendly qualified electricians can take you from room to room and discuss your current needs and future plans for the rooms. Together we can deliver an electrical system that works for you.
Give Aardee Electrical Services a ring today for a friendly chat with a qualified electrician about your requirements.
Contact Aardee Electrical Services Today!
Contact Aardee Electrical Services today for a free, no-obligation quote! Just leave your name and either email address or phone number and we'll get back to you as soon as possible to discuss your requirements or query.
Alternatively, please telephone Aardee Electrical Services on 02920 810 315 or 07702 162 692.
Got an emergency and need us quickly? Aardee Electrical Services offers a 24/7 callout service all year round for electrical emergencies. Just call us on 02920 810 315 or 07702 162 692 day or night for a fast emergency response!