Bathrooms are where safe electrics really matter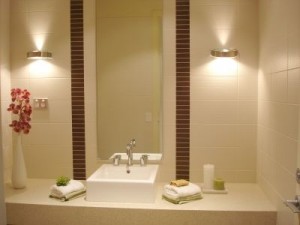 As far as electricity is concerned, the bathroom is possibly the most dangerous room in the house. Water is a very efficient conductor of electrical current which makes the combination of water and electricity potentially lethal.
As such, it is essential that any electrical systems in the bathroom are installed and tested by professionally trained electricians. At Aardee Electrical Services, we have installed new electric systems into bathrooms as well as upgraded and modernised existing electrical circuits to comply with Section 701 of BS 7671:2008, and Part P of the Building Regulations.
Bathroom Electrical Installations
The most common electrical installations for a bathroom include:
Installing or replacing a shaver socket
Installing or replacing an extractor fan to help minimise moisture in the bathroom that can lead to condensation and damp problems. We can supply and fit both humidistat fans that automatically turn on when it senses too much moisture in the air as well as timer fans which come on with your bathroom light and turn off a few minutes after the light is turned off.
Installing or replacing light fittings from central lights to spotlights and mirror lights.
Installing or replacing an electric shower
Installation of fan heaters or heated towel rails
Professional and Safe Bathroom Electrical Installations
At Aardee Electrical services, our electricians are trained to ensure that any electrical installation is compliant with the BS 7671:2008 regulations. They ensure fittings are correctly IP rated for the zone they are to be used in and that they are correctly located to comply with regulations. You can be assured that when you ask Aardee Electrical services to sort out the electrics in your bathroom, that we will professionally install your new electrical devices safely.
Give Aardee Electrical Services a ring today for a friendly chat with a qualified electrician about your installations.
Contact Aardee Electrical Services Today!
Contact Aardee Electrical Services today for a free, no-obligation quote! Just leave your name and either email address or phone number and we'll get back to you as soon as possible to discuss your requirements or query.
Alternatively, please telephone Aardee Electrical Services on 02920 810 315 or 07702 162 692.
Got an emergency and need us quickly? Aardee Electrical Services offers a 24/7 callout service all year round for electrical emergencies. Just call us on 02920 810 315 or 07702 162 692 day or night for a fast emergency response!